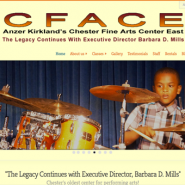 Client: The Chester Fine Arts Center East
Project: Web Design for the center to promote upcoming events, class registration and general information about the center.
Services: Custom WordPress site, Graphic Design, Web Design and marketing materials.
The Chester Fine Arts Center East, Inc. seeks to develop and implement culturally sensitive programs in the fine and performing arts for the residents of Chester and the immediate vicinity that will raise the overall level of cultural awareness and enhance artistic ability and achievement while allowing a forum for presentation.