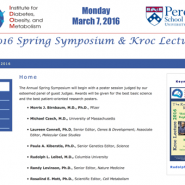 Client: University of Pennsylvania Diabetes Research Center Spring Symposium and Kroc Lecture.
Project: Web design, on-line registration, flyers, poster, poster booklet and promotional pens.
The Annual Spring Symposium began with a poster session judged by our esteemed panel of guest Judges. Awards were given for the best basic science and the best patient-oriented research posters.